We would like to say a huge thank you to everyone who filled in our engineer survey during the month of February. Each month, we pick a winner (selected at random), from a list of people who have completed our engineer survey. BCS really do listen to feedback received, so we would like to extend our appreciation to all of you who provide us with this.
The winner drawn from February survey is… drum roll please… Sandra Hawkins from Safety & Management Solutions (SAMS)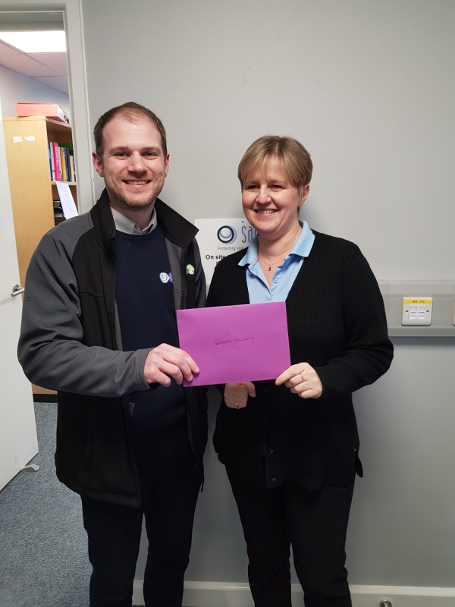 Our survey prize was tea for two at the Sands Hotel in Margate. When we told Sandra she was the winner, she said we had made her day! Our lovely Steve Boulton and Alex Jeffries dropped off the voucher. Well done Sandra, we hope you have a lovely relaxing day!
Here are some of the brilliant comments our engineers received from February 2018:
"Working with Charlie to resolve the issues we have is quick and painless. Just the way it should be, keep up the good work!"
"Fixed quickly and was called back twice after to make sure the update was completed and working. Thank you!"
"Outstanding service as always registered call at 9.25am called me back within 5 mins and resolved the issue I had in 5 mins. 10 minutes everything was completed. Incredible."
"I truly appreciate the promptness and expertise provided each and every time I contact BCS with a problem. Thanks so much!"
"My question was answered quickly as usual and gave me the information I needed. Thank you :)"
This month we have something up our sleeve, something a bit magical! Jamie Raven, the man who made Simon Cowell say, "I now actually believe in Magic!!" is on at the Theatre Royal this autumn. Jamie is taking his brand-new show "Making Magic" across the country in 2018, and we have a family of 4 ticket up for grabs. Expect the very unexpected, and to laugh as much as you are mystified. Sit back, relax, and watch as Jamie Raven shows you exactly how for 25 years he has been "Making Magic".