On Thursday 1st March, David and Becca went to the Kent Innovation Centre to present An Introduction to Digital Marketing for Charities. Georgie from Stronger Kent Communities got in touch with us and asked if we would like to do a talk for some local charities. David jumped at the chance (as he does love to talk).
Stronger Kent Communities is a voluntary sector partnership including Funding for All, Action with Communities in Rural Kent, KentCAN and a number of the Volunteer Centres from across Kent including Thanet Volunteer Centre. It is funded for at least three years, although it is intended to create a sustainable model of support for the Volunteering Community Sector in Kent in the longer term.
21 different charities signed up through Eventbrite. And there was even a waiting list.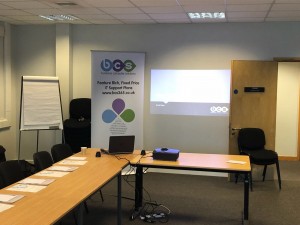 On the day we experienced a heavy hit of snow. However, the show must go on! David and Becca headed down to the Kent Innovation Centre and got set up. Amazingly, we still had a great turnout, despite the weather.
It was a great session! David spoke about awareness for charities, what is working in the digital world and how to get people to care and take action! It was also a great way for different organisations to do a bit of networking and get to know each other.
Thank you everyone who attended the session and a massive thank you to Georgie for putting on the event. Due to the weather and people missing out, David and Becca are thinking about putting on a second event. Therefore, keep your eye out for that in the future.
If you would like David to speak at your next event please contact us on Info@bcseducation.co.uk or call us on 01843 572600