BCS Getting Creative! 
On Monday 23rd July the Marketing Gang got together to get creative.  We headed over to Café G in Margate to get out of the office, so our creative thoughts could start flowing.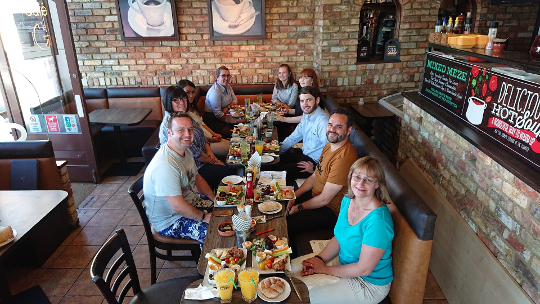 We spoke about the Big Wins from the last 6-months, including the release of another Bytesize Magazine, the talk we did at GrowKent and the new customers we've picked up along the way!  
This was a great time to also talk about BCS' future marketing ideas. Before the meeting we all had to come up with 'One Big Idea' which followed a fun activity that Martin Hynes came up with. There are lots of exciting things coming up so keep an eye out! 
Our innovative meeting was accompanied by the fabulous range of food and drinks that were supplied by Café G. The array of food included delicious cheeses, succulent meats and delightful fruits and vegetables, there was something to fill everyone's belly.    
Thank you, Daniel and his team, at Café G for having us.