Our Leadership team came up with a brilliant idea to put on four social events each year for the team at BCS. Social events are a fantastic idea not only for team members to socialise outside of working hours, but also, it's a great way for the Leadership team to thank the team for all their hard work!
Our lovely Rachael Burbidge organised our first quarter's social event for 2019. Rach thought it would be a brilliant idea to do another escape room, because last year we headed down to the Escapement in Margate and had an amazing time!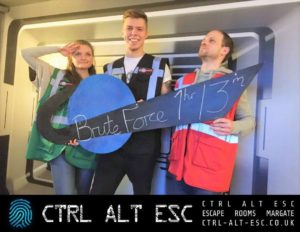 The team headed over to CTRL ALT ESC in Margate on Saturday 9th February. The escape room currently has two rooms – Frankenscare and Spacescape. With the huge success of their two rooms they are opening up two more this year – 'Detention' and 'Ghosts on the go'.
Frankenscare escape room – the scatty professor Alec Smart has gone missing in the mist of a very important experience. Therefore, the team has to take his place or forfeit losing his ground-breaking research!
Spacescape escape room – you and your crew are on a voyage to a newly discovered planet, but not the spaceship's lights are flashing, and alarms are sounding. Surely you can just turn off the warning and forget about it, or maybe you need to prepare the escape pod!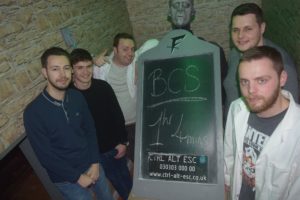 When we arrived, we were welcomed by the lovely team at CTRL ALT ESC. They had photos on show of what their building used to look like before the escape room was there and what a transformation! They have all worked extremely hard and the hard work has paid off!
We were split into three teams, two teams done the Spacescape room and the other team done the Frankenscare room.  The first team called 'Brute Force' was Jess, Steve, Matt and Becca. The second team who took on Frankenscare called 'BCS' was Toby, Andrew, Harry, Dan B and Dom. And the last time called 'the best cadets in space' was Rach, Eden, Dean and Martin.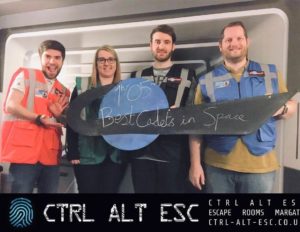 Brute Force took on Spacescape and managed to escape in 1 hour and 13 minutes. The BCS team who took on Frankenscare managed to
escape in an impressive 1 hour and 4 minutes. Finally, the best cadets in space managed to escape the Spacescape room in 1 hour and 5 minutes.
The whole teams had a brilliant time! After using our brains, we needed one thing… pizza!
Luckily Rach had booked a table at GB Pizza in Margate. The pizza was amazing!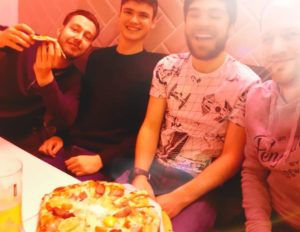 A massive thank you to Rach for organising such a fulfilled event. Also, a huge thank you to the lovely staff as CTRL ALT ESC. And of course, GB pizza for filling our bellies of much deserved, delicious pizza.
If you would like more information about CTRL ALT ESC in Margate, then visit their website here. (You won't be disappointed)