To mark BCS's 25th?Anniversary, the team are undertaking "25 acts of kindness locally".
This week, Carrie chose to spend her day helping out with end of year tasks at Bradstow School. 
Bradstow is a residential special school, registered as a children's home for children and young people with severe intellectual disabilities who are on the autistic spectrum continuum. 
As the current school year has come to an end, certain archiving tasks need to take place before preparations can take place in readiness for the intake of new young people for the next school year. 
Carries day started by arriving at the school and meeting with the student administrator who outlined what was in store for the day.

After loading up the work van with around 16 boxes of archived student files and paperwork, they headed over to an off site secure location….. where the work really began! 
Carrie was tasked with rearranging and tidying the storage facility so that all files were in date order, whilst creating space to add the last year of documentation. After a few hours of lifting and sorting, the hard work was done and the storage space was well organised, making it easier to add to next year.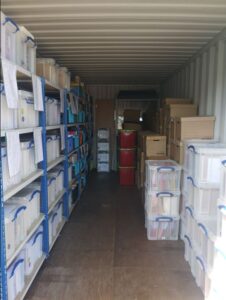 Carrie then headed back to the school to offer assistance completing some administration tasks including filling out forms for bus passes for the young people that are joining as well as creating and prepping personnel files ready for their arrival. 
All in all, it was a great day and hopefully Carrie was able to add some value to the team at Bradstow.  Find out more about Bradstow School here.
Watch our 25 Year Anniversary blog page here for updates every week on our volunteering progress.