It's been more lik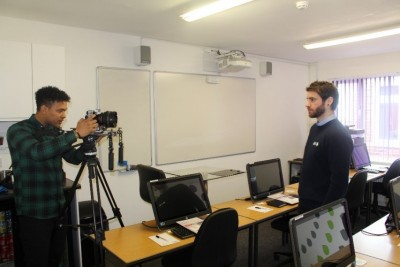 e a Hollywood film set here at BCS with the cameras rolling these last few weeks
That is because we have had some of our technology partners in filming testimonials and also Sean from Redcape Productions filming for our website and networking group videos.
We have worked with Sean before so it was very easy for our newly appointed Managing Director Martin Hynes to get straight to work.
Sean really knows how to tell a story and the best way to present this on film. He spent his time here in all areas of the business capturing the team hard at work keeping our customers productive.
The last time we worked with Redcape was for our Ninja video which you can watch here.
Video marketing is something we talk about often in our Lunch and Learn sessions and in fact, we ran a video marketing session with Sean in January this year.
We understand that given the choice people want to see exactly who we are and what happens here at BCS.
Video delivers this by capturing the real people who work behind the scenes to keep our customers happy by being preventative and not reactive.
Yes, video is hard and yes has to be authentic which is why Martin was easily able to talk passionately about the types of value we already bring to customers 365 days a year and 24hrs a day.
Both BCS and Redcape Productions are members of the Thanet Business Network (TBN) and one of the videos we created was to showcase BCS on the TBN website.
So, keep an eye out for our up and coming videos in the next few weeks and let us know what you think?  If you want to connect with your customers and prospects digitally then video is a great way to do this and we highly recommend working with Redcape Productions.