Christmas Jumper Week!
Last week saw everyone in the office get into the Christmas spirit! To begin the Christmas Joy in the office we decided to support a fantastic charity 'Save the Children' by participating in Christmas Jumper Day on Friday 13th!
However, one day wasn't enough for us all here at BCS, we continued the Christmas Jumper spirit into the following week!  
We've seen a great variety of jumpers, such as Star Wars jumpers, Snowmen, Christmas Minnie Mouse, Father Christmas, even a Christmas Dinosaur, the list is endless.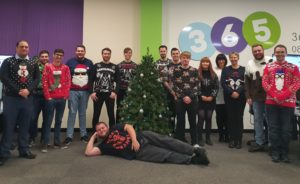 Everyone here at BCS has donated to 'Save the Children' and have raised lots of money for this wonderful charity! 
'Save the Children' do some amazing work by promoting children's rights and building better futures for those less fortunate. 
To join the cause visit their website: https://christmasjumperday.org/