Our Engineer Survey Says…
We would like to say a huge thank you to everyone who filled in our Engineer survey during the month of June. Each month, we pick a winner (selected at random), from a list of people who have completed our engineer survey. BCS really do listen to feedback received, so we would like to extend our appreciation to all of you who provide us with this.
The winner drawn from June's survey is…drum roll please…Mick Hall from SEI Identification Solutions Ltd!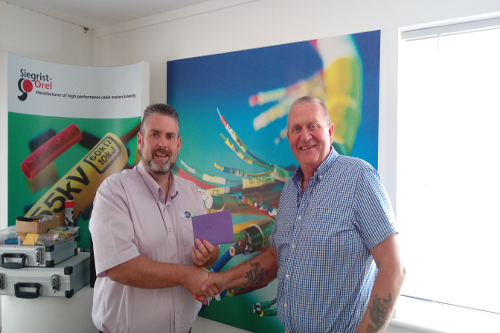 Our prize was a gift certificate for three people to take part in an adventure at 'Escape in The Towers' at The Pound, Canterbury. The Escape rooms offers a one of a kind live action experience, with theme park quality settings and puzzles to test your abilities in teams of 2-5 players.  Martin Batchelor dropped this off for Mick…looks like he was keen to keep hold of them! Well done Mick and let the games begin! 
Here are some of the fantastic comments our engineers received from June, 2017:
"Every time we think you guys have done your best, you become even more superhuman and are just the greatest. A shout of praise goes out to all of you. Thank you guys for all that you do!"
"My request was dealt with very promptly and efficiently. Great customer service. Thank you!"
"Contacted BCS with my issue at 9.50am and by 10.10am, it was resolved. Outstanding, friendly service."
"Great help, thank you!! Would totally recommend BCS to anyone. I'd be lost without you guys!! Thanks again."
"The staff were brilliant, sorted in no time at all, as usual."
As a thank you to our customers, each engineer survey that is completed will be entered into a monthly draw for a chance to win a super prize. This month, we have two tickets to see 'Jackson Live in Concert' at Margate Winter Gardens. Ben's portrayal of Michael Jackson is the most vocally and visually accurate tribute to the King of Pop to have ever toured UK theatres! So if you wanna be startin' something, then Moonwalk this way to win the tickets and have yourself a thriller night…you won't be able to beat it!