We would like to say a huge thank you to everyone who filled in our engineer survey during the month of February. Each month, we pick a winner (selected at random), from a list of people who have completed our engineer survey. BCS really do listen to feedback received, so we would like to extend our appreciation to all of you who provide us with this.
The winner drawn from February survey is… drum roll please…Jeff Young from Young Brothers Transport.
Our survey prize was afternoon tea for two at Mama feelgood's. Jeff's account manager Steve dropped the vouchers to Jeff at their offices (where they had the cutest dog!) We hope you have a lovely time at Mama feelgood's Jeff, maybe you can treat someone special for Mother's Day at the end of the month.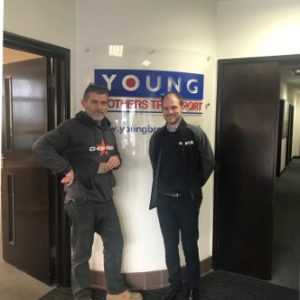 Here are some of the brilliant comments from February 2019:
"Charlie sorted out a Sage issue for us straight away this afternoon and has really helped with some interviews coming up. Thanks Charlie!"
"Dealt with very quickly, was given peace of mind and offered great advice for future."
"Always helpful and offer a quick service, it also helps that all the staff are really nice."
"As always you are at the end of the phone to take away the stress of the issue or problem."
"Charlie as ever was polite, quick and explained problem clearly"
"Toby took control of my problem and fixed it via the phone in 1 call. Great."
This month we have a £50 gift voucher to visit "The Loveliest Castle in the World", Leeds Castle. If you are thinking what you can do over the Easter break maybe you could go exploring in the 500 acres of beautiful parkland and formal gardens! Leeds Castle has daily activities, free flying falconry displays and spectacular events! Leeds Castle is one of the best days out in Kent, you will want to come back time and again! Make sure you leave feedback to be in with a chance of winning the survey prize!