One of our lovely customers Adam,Rouilly celebrated their 100-year anniversary this month. 
Adam,Rouilly manufacture and supply training simulators, anatomical models and charts to medical training institutions, nursing colleges and healthcare professionals throughout the world. 
Adam, Rouilly was established in 1918, M.Rouilly recognised the need to provide healthcare education with superior products and the very best customer service. Today Adam,Rouilly has been serving medical education worldwide for 100 years and continues to uphold M.Rouilly's high standards in providing quality and excellence to customers. 
Business Computer Solutions have been supporting Adam,Rouilly's IT for over 20 years, wow! 
Because, they have been such a loyal partner to BCS, we wanted to make their 100-year anniversary a special one.  
We got in touch with Little Brown Fairy Cake in Westgate to see if Nicola could bake us something amazing.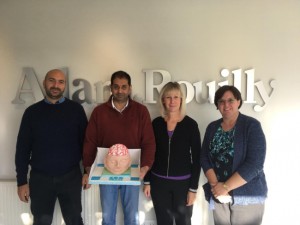 Nicola done a brilliant job!
Our lovely Matt Kateley drove over to Sittingbourne to drop off the cake, and it went down a treat. 
We hope you all had a lovely time celebrating 100 years. Here's to the next 100…