Here at BCS, we have our wonderful Learning Zone, which hosts workshops on Microsoft related topics and other work related subjects. Whether you are an existing BCS customer or not, everyone is welcome and we would love to see you here!
Our Learning Zone has been running for some time now, and it's great to see the positive impact it has had on our clients. We love the feedback you provide us and it allows us to ensure our workshops are relevant to your needs. To emphasise the point, we've had an average rating of 4.83 from attendees over the last year! Thank you all so much for your support and enjoyment of our Learning Zone!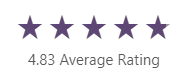 Additionally, attendees were incredibly likely to recommend a workshop to a friend or colleague, with many attendees over the last year saying as much! With an NPS score of 82, we are really grateful for the responses we've had over the course of 2019.
For 2020, we are looking to continue our successful workshops and are looking to actively provide more topics throughout the year. If you have any requests, please let us know! Additionally, for our clients who are further afield, we will be starting a webinar-style version of our Learning Zone sessions. These will be shorter in length and more specific in terms of their content.
Contact us on 0800 6521 365 or email bcslearningzone@bcs365.co.uk if you would like to attend or find out more about the Learning Zone.
All our scheduled workshops can be seen at www.bcslearningzone.co.uk
You can read more about the BCS Learning Zone here, on our dedicated blog section.