On Wednesday 14th November, we hosted a Vlogging and Blogging Lunch and Learn here at BCS. However, it wasn't David Shaw sitting in the driving seat but our lovely Account Manager Matt Kateley.  
Before Matt joined BCS, he was a public speaker… yes, another one who likes public speaking! Therefore, we thought it would be a brilliant idea for Matt to host a Lunch and Learn.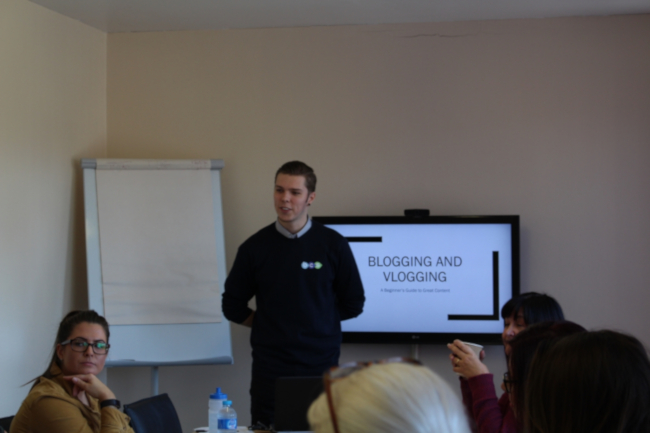 David and Matt sat down a couple of days beforehand to get the presentation together. Combining David's Marketing skills and Matt's experience on stage it was going to be gold! 
Matt led the Lunch and Learn with a mixture of BCS customers and Kent based business owners. Our delegates learnt the importance of both blogging and vlogging and how it can help market their business.  
Matt did a fantastic job especially considering Marketing isn't his subject matter. 
Watch out David… Matt's coming for your spotlight! 
Each event is an informal networking opportunity, with lunch included and a short presentation that will help with your understanding of business, technology and marketing. Our 'Lunch & Learn' events take place over lunchtime and are completely free of charge for both our customers and other Kent based business owners to attend. 
Would you like to attend our next 'Lunch & Learn' event? Book your free place through Eventbrite here. 
Like to find out more information? Call Becca or David on 01843 572600 or email lunchandlearn@365itsupport.co.uk