As we enter a new quarter, we are happy to announce that our Service Manager Carrie is our new EO President & Representative! What is an EO Representative we hear? Let us enlighten you!
Business Computer Solutions has been an employee-owned company since June 2018. This means that once staff members reach a certain amount of time at BCS, they own a share of the business! Since 2010, employee ownership in the UK has seen a growth of around 60%, and in June of last year there were 576 employee-owned businesses in the UK.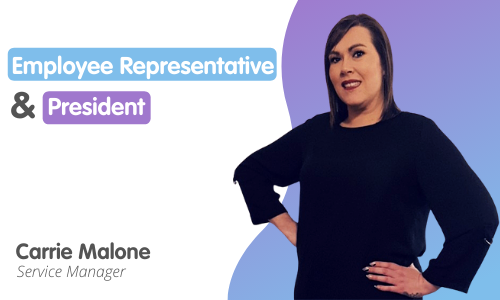 There are many benefits to having an employee-owned business, and here's just a few:
Inclusivity – employees feel included in important decisions and feel unified as a team
Motivation – employees have a stronger initiative to achieve successful outcomes as they own a piece of the company
Higher Profitability & Increased Revenue – due to the heightened motivation, employee-owned companies see an increase in revenue and personal investment into business objectives
Strong Commitment – employees tend to have more respect for corporate and social responsibilities and involvement in the local community
Environmental – studies have shown that employee-owned businesses are usually more environmentally friendly
Carrie was voted in by the whole team here at BCS to become our representative and president, and her role includes:
Being a voice on behalf of the employees to the leadership team
Providing opportunities for employees to air their ideas for the business
Nurturing the relationship and communication between departments
Organising team-bonding activities & socials!
Providing a safe space for employees to talk openly and honestly
A big congratulations to Carrie on being voted in to represent the team, we are really glad to have you! If you'd like you find out more about becoming employee owned, you can visit the Employee Ownership Association website for useful guidance and more information.