Quizzical Education… 
One of our lovely customers Treasury Today organised a charity event to raise money for Cancer Research. They asked if we would like to get a team together to take part in the event. We jumped at the chance and got two teams together! 
On Friday 21st September, the team headed over to St. Mary's Arts Centre to get our quiz on. 
The first team called 'Ham and Cheese Sandwich' included: Dean, Martin, Rachael, Dom, Dan B, Reece and Charlie. 
The second team called 'And in Last Place…' included Steve, Matt K, Luca, David and Becca.  
The competition was on between our two teams! 
The quiz started with a bit of general knowledge, then onto music intros, nature and science, Kent History, a picture round, entertainment, one question ten answers, and finally the 'Wipeout' round.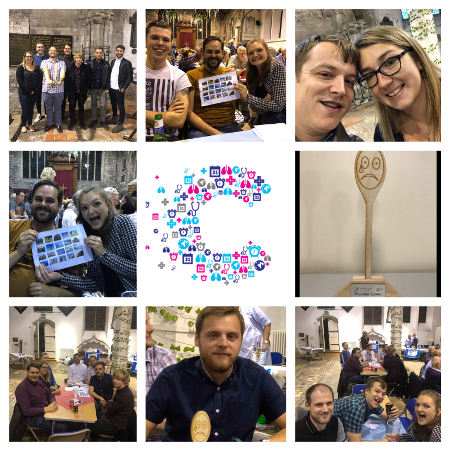 There were some great answers from both teams including 'What is the difference between a Kentish man and a man from Kent?' and 'What was the first man-made item to break the sound barrier?'. Any ideas? Answers on a postcard… 
But of course, there can only be one winner. Neither of our teams came first but one team did come out ahead – Nothing like a little bit of healthy competition! 
'And in Last Place…' were over the moon that they beat 'Ham and Cheese Sandwich', landing a solid 17th place and BCS bragging rights.  
The 'Ham and Cheese Sandwich' team lost and in fact finished last from all 20 teams that entered. Holding their head high they received their booby prize, which now holds pride of place in the BCS offices. 
Thank you so much Treasury Today for inviting us along. We all had a great time! We hope you raised lots of money for Cancer Research.