At Business Computer Solutions, we believe in supporting the local community and we have a good understanding of the role that we play in society. We are very proud to announce that we are a sponsor of Ramsgate Football Club.
Some of our ninjas attended the Ramsgate v Carshalton match on Saturday, 23rd January 2016. With the sun shining and fantastic hospitality, lunch was enjoyed and the atmosphere was great.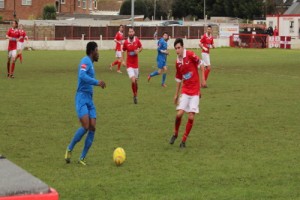 At 3pm, it was kick off and what a game! We were very proud to be match sponsors for this exciting game of football with a full time score of 7-1 to Ramsgate! Joe Taylor scored five goals and as Business Computer Solutions had the honour of nominating man of the match, Joe was the clear choice! Martin Hynes (Sales Director at BCS) presented Joe with a bottle of bubbly after the game.
Our ninjas met the Director of Ramsgate Football Club, Vic Todd (pictured below) and his hospitality and passion for the club is fantastic. A great afternoon and an amazing result for Ramsgate Football Club. Come on you Rams!