Here at BCS, we are getting into the festive spirit. On Friday 13th December, Secret Santa came to visit! 
Our lovely Kate organised our Secret Santa this year and rather than using a hat, she used what we do best…IT, by using www.drawnames.co.uk. Through this we all received an email with who our Secret Santa was, with a specific budget of £5. With our box of presents being filled up over the last few weeks, we could feel the excitement in the air! There were presents of all shapes and sizes including t-shirts, magic eight balls, sweets, books, mugs and even a blow up dinosaur.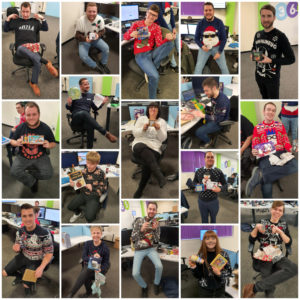 Everyone had lots of fun and enjoyed their gifts from Santa!