Are you looking for some software that can schedule your social media posts for you? Looking to save time and schedule posts in advance? Welcome to the world of Sendible!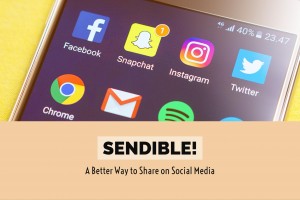 Sendible gives you the ability to schedule social media posts in advance for Facebook, Twitter and more. You can create your daily schedule and by allowing Sendible to analyse your social media platforms, it provides the best times for your content to be seen by your online audience, so if you need to change your times, you can. How great is that?
The interface to compose your scheduled post looks like below. You can add images, URLs, text and hashtags into each scheduled post. As you add content, you can easily select which of your social accounts you want to post to. You can post the same content to all accounts or add target specified content by customising each one.

Manage your social media platforms, schedule messages, monitor keywords, use Sendible's RSS 'Auto Posting' feature, engage with your audience and measure ROI from their all-in-one dashboard. You can even create social images using Canva through Sendible. What more could you wish for?
Sendible gives you the opportunity to create a fantastic social media strategy, even when you don't have the time! Their basic package is a steal at £39 per month.
Ready to sign up for an account? Here you go!
Looking for some free software instead? Check out our blog on Buffer here.
Did you find this information useful? Download or print out our PDF – it may come in handy! Sendible – A Better Way to Share on Social Media PDF
You can also read more about our social media marketing hints and tips on our blog section here.
Pick up the phone and call our helpful team on 01843 572600 if you would like any advice on your social media, including your post scheduling. We are always happy to help!