We would like to say a huge thank you to everyone who filled in our engineer survey during the month of September. Each month, we pick a winner (selected at random) for our survey prize, from a list of people who have completed our engineer survey. BCS really do listen to feedback received, so we would like to extend our appreciation to all of you who provide us with this.
The winner drawn from September's survey is… drum roll please… Rubyrose Yarwood from Associated Care Centres.
Our survey prize this month was a family ticket for the Quex Park Bonfire and Fireworks Event on Saturday 2nd November. Our lovely Steve and Jess dropped off the tickets to Rubyrose who is looking forward to attending the event with her husband. We hope they have an amazing time!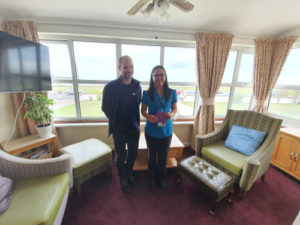 Here are some brilliant comments from September 2019:
"Always quick & professional service, and always a pleasure to talk to any member of staff at BCS :)"
"Well done all of you for the completion of the works. All went smoothly. You all worked so hard yet you made it seem so effortless and easy. You are all an amazing bunch of people. Thank you"
"Really quick service and problem sorted virtually immediately. Great company- thank you!"
"Everything you do to complete the work is exceptional. You guys and gals are always available to help and get the job done to a very high standard."
"As always the issue was dealt with an resolved in a professional manner. Thank you! :)"
"Fast service and issue resolved efficiently, as always. Thank you :-)"
October's prize is something that we promise will make you laugh out loud, sing along and go on a magical carpet ride! So give your old lamp a good rub and be sure to make a wish for tickets as Aladdin flies into the Theatre Royal – Margate between the 7th and 29th December. IT'S GOING TO BE 'GENIE'US…