We would like to say a huge thank you to everyone who filled in our engineer survey during the month of March Each month, we pick a winner (selected at random), from a list of people who have completed our engineer survey. BCS really do listen to feedback received, so we would like to extend our appreciation to all of you who provide us with this.
The winner drawn from March survey is… drum roll please…Lee Waddon from Tides Leisure Centre.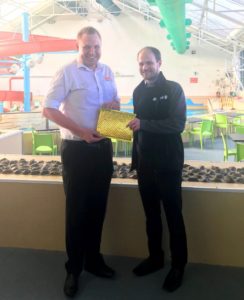 Our survey prize was gift vouchers worth £50 for Leeds Castle. Lee's account manager Steve popped over to Tides to have a catch up with Lee and to drop off the vouchers. We hope you have a fun day out at Leed's castle.
Here are some of the brilliant comments from March 2019:
"Once again you came tops for sorting out my computer. Always an excellent service! Thank you BCS."
"Charlie Brown was excellent, always responds quickly and helps us with any request needed."
"BCS kept me updated as to the status of my ticket, was polite and helpful."
"Charlie worked his magic and I am all working properly again Thank you"
"Couldn't be happier with the service provided"