We would like to say a huge thank you to everyone who filled in our engineer survey during the month of May. Each month, we pick a winner (selected at random), from a list of people who have completed our engineer survey. BCS really do listen to feedback received, so we would like to extend our appreciation to all of you who provide us with this.
The winner drawn from May 2019 survey is… drum roll please… Mathieu Silbilla from Drink Warehouse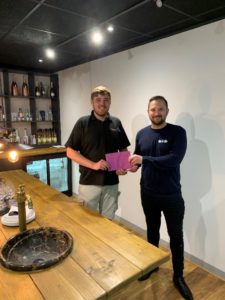 Mathieu always leave us amazing feedback and is a well deserved winner! Mathieu won a voucher for four adults to Quex Adventure Golf at Quex Park. Wayne, Drink Warehouse account manager dropped the voucher to Mathieu. We hope you have a lovely time!
Here are some of the brilliant comments from May 2019:
"Toby was great. What I thought may have been a disaster (for me), he rectified quickly, so thank you very much for saving the day."
"Great service as usual. Engineer polite and knowledgeable"
"all my needs were met by very helpful and knowledgeable people."
"Excellent and speedy service and resolution of issue. Many thanks Lee"
"As always we are never let down by you guys! Thank you so much."
"Sorted by Dan Cook quickly and printer working perfectly again."
"We're going to the zoo, the zoo, the zoo, you can come too, too, too!"
Well, we aren't going to the zoo, but we are giving you the chance to win a £50 gift voucher to Wingham Wildlife Park for this month's survey prize! Enjoy exploring Kent's fastest growing wildlife park, whether you're looking for tigers, flamingos, penguins or adorable red pandas, Wingham Wildlife has it all!