Thanet Business Network (TBN) is an independent networking group made up of Thanet companies that primarily conduct business in Thanet and East Kent, who meet every Wednesday for a full English breakfast to network with members and guests. 
TBN have a friendly business networking approach that allows everyone to get involved. Starting off the morning with a coffee (as caffeine is always needed – especially at 6:30 in the morning) and a bit of networking, followed by the Chairman and Vice Chairman's update, then a 10-minute speaking slot where one of the members talks about their business or something to educate the members about their industry.  
TBN give members and guests the opportunity to go around the room each week giving everyone an update and to talk about the business opportunities they are looking for.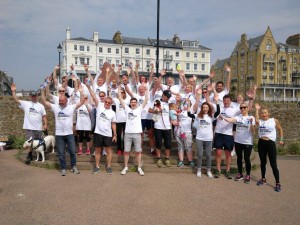 BCS have been members of Thanet Business Network (TBN) for many years. David Shaw is now the vice chairman and attends TBN every Wednesday morning. David has been a part of many of TBN charitable activities including the Thanet Business Network Everest Challenge in May 2018. All of the TBN members had to climb Month Everest. Well not quite, but to climb the equivalent 8,884m at Augusta Steps in Ramsgate. The TBN member raised a lot of money for EKIDS – East Kent Independent Dementia Support.  
Thanet Business Network are always looking to welcome new members, so if your business or service doesn't conflict with any of their current members, they would be happy to welcome you along as a visitor and future member.  
To find out more visit http://www.thanetbusinessnetwork.co.uk 
Or email the members on info@thanetbusinessnetwork.co.uk