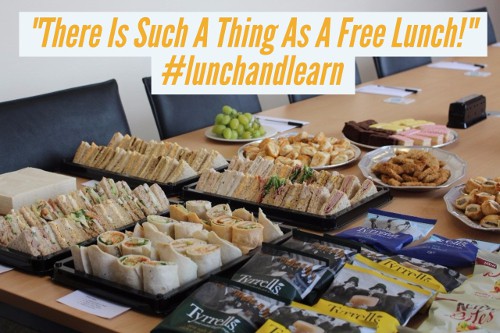 The 'Lunch and Learn' events we hold at Business Computer Solutions are a chance for networking and learning. Our last 'Lunch and Learn' session, held last month, was titled 'Beginners Guide to Blogging.'
Jo Smith from Trapeze Recruitment attended, with no idea of what to expect from the session. Since the session, Jo has been blogging…and they are good too! Here is what Jo had to say about her time at the 'Lunch and Learn' session on blogging:
"There is such a thing as a free lunch!!!
Whilst out networking, I recently met Amanda Hill from BCS (Business Computer Solutions Ltd) and she kindly invited me to join a Lunch and Learn session that she organises and her company kindly facilitates. It was a 2-hour session and I was buzzing afterwards. They provided a lovely lunch, I met with some great people to network with had a full tour of their excellent facilities but most importantly, I learnt.
David Shaw presented a 45-minute presentation about blogging, the content was fab and his delivery was exceptional. Given my passion for the recruitment industry and 16 years' experience within it, blogging is something I should have been doing for many years. I should do it frequently and consistently but I used time as an excuse and worried what others would think of my blog.
I know I have loads more to learn about blogging and will continue to increase my knowledge of this but this free lunch and free learning session has provided me with the confidence to just do it, if I have something positive to add just get it out there, if I am being frequently asked questions about recruitment or my own business to blog my opinion.
Thank you – BCS Ltd, Amanda Hill and David Shaw for giving me this confidence – I cannot wait for the next session."
Would you like to attend our next 'Lunch & Learn' event? The topic is 'An Introduction to Social Media.' Call Amanda or David on 01843 572600 or email lunchandlearn@365itsupport.co.uk. We would love to see you here!
You can read more about our previous 'Lunch and Learn' sessions here on our dedicated blog.