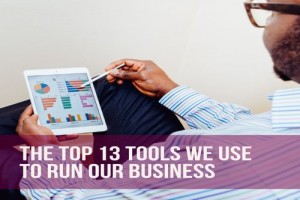 Every company has their own unique mix of business tools they use to run their business. Some may even call it their secret sauce. Regardless of industry sector, it's likely we've all got a set of tools we could list that prove invaluable in providing products or services to customers.
Could our competitors view this list and decide to use the same tools? Yes, of course, and they should, they are great tools! We believe in transparency, which is why we publish our prices on our website and in that spirit, we have complied this list of all the tools we use to provide the best service we can to our clients.
Why would we do this you may ask? We have nothing to hide and the start of every great relationship is built of trust. This is why we are part of the HTG peer groups (Link) where this kind of sharing is done on a global level to help us all get the best out of technology and provide a better service to everyone.
ConnectWise – This is the heartbeat of our organisation that runs our ticketing, customer relationship management and time tracking for everything we do – we have a saying at BCS in that if it's not in ConnectWise then it didn't happen. – https://www.connectwise.com/

Automate previously called LabTech – This the remote monitoring system that keeps an eye on all our customers' PCs and servers. LabTech will log tickets on behalf of our customers should it spot anything that that does not look right. It will even in some cases fix the issue by itself. http://www.labtechsoftware.com/

SmileBack – Our customer satisfaction software that records how our customers are feeling about the experience they had with BCS from the start to the finish of our service. This is a transparent metric we measure every day and report on our website. https://www.smileback.io/
TINYpulse – This is our internal company culture and employee engagement software that enables all staff to engage with the leadership team and each other in a simple and easy way. https://www.tinypulse.com/
Microsoft Office 365 – Office may be 27 years old this year but it is still the main staple of millions of businesses all over the world. Many other systems have tried to take on the office productivity market but Office remains the market leader.  http://www.businesscomputersolutions.co.uk/office-365/
MailStore – Our email archiving solution – Not only does this keep our inboxes tidy but keeps a copy of every single email you have ever sent or received since you installed the software. The ability to search through these is so useful and gets used every day.
QuickBooks – Accounting has never been so easy. This cloud-based software integrates perfectly with our existing systems and enables us to do simple digital invoicing and financial reporting. https://www.quickbooks.co.uk/accounting-software/
WordPress – 15,886,000 is how many websites are run on WordPress and we are one of them. That's 28% of the entire internet! You can create your own blog or website for free and you can learn more here https://wordpress.com
BrightGauge – This is our business intelligence software that creates the dashboards across the whole company enabling everybody to track the business metrics that move our company forward every day. https://www.brightgauge.com/
Cisco Umbrella – We use this for ourselves and all of our customers to protect users from accessing any infected websites. This service not only works while based in the office, but continues to protect at any other location the device is being used from too. https://umbrella.cisco.com/
StorageCraft – This is our Business Disaster Recovery solution or BDR for short. This is what back up all our data and virtual copies of the servers for our business and for all our customers Therefore, in the event of a disaster, we can spin up the servers in the cloud and enable access for our customers to get to their data and servers. http://www.businesscomputersolutions.co.uk/backup-and-recovery/
Auvik – Understanding how data travels around your network and what devices are on your network. This can save lots of time when diagnosing IT challenges. That's why we use Auvik to give us real-time monitoring and reporting to provide us with the complete picture and enable us to solve more IT issues faster. https://www.auvik.com/
Webroot – Endpoint protection might be the last layer of defence but it's an important one which is why we use Webroot for our antivirus. This is a genuine business-grade antivirus that protects round the clock from all threats and comes included as part of our support offering. https://www.webroot.com/us/en/business/smb/endpoint-protection
We review our technology stack often to ensure that we are utilising the very best tools on the market to serve our customers as well as our own systems to run the business.
Should you have any questions about any of these products and services you can always reach out to our friendly team on 01843 572600 or you can email us at hello@365itsupport.co.uk