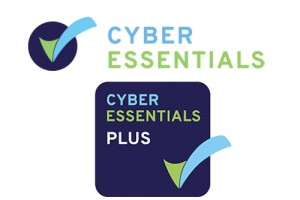 What is Cyber Essentials?
It won't surprise you to know that cybersecurity is big news these days. As a result the government are doing their bit to help businesses of all sizes get themselves in basic shape to avoid becoming a victim of cybercrime.
What exactly are they doing?
Cyber Essentials is a government backed scheme that enables businesses to demonstrate that they have taken the necessary steps to ensure that their company and employees are educated and protected from the evolving threat that is cybercrime.
Why should you certify for Cyber Essentials?
There are many reasons why you should certify with Cyber Essentials but the most important reason is to protect your company and employees by ensuring you have in place the right systems and education in place and that these remain up to date.
Being certified also demonstrates to your customers and suppliers how seriously you treat cyber threats, giving them assurance that the data they have trusted you with is safe and secure.  Other benefits include the ability to apply for government contracts and it is something insurance companies will look for you to have in place.
Being Cyber Essentials certified will also work hand in hand with other processes and documentation you may need to have in place for things like GDPR and ISO standards.
How does a company certify for Cyber Essentials?
At its entry level, it  is a fixed price self-certification process that will require a good understanding of your IT systems.
It is essential that you get your IT manager or provider involved in this process to successfully certify.
How many different types of certification are there?
There are two levels of certification there is the standard Cyber Essentials certification and there is Cyber Essentials plus. The plus certification is applied for after you have achieved the standard certification and includes an additional internal scan of your systems and on onsite assessment of your IT infrastructure.
BCS are a Cyber Essentials Plus certified company
Should you require any help in getting cyber essentials certified please do not hesitate to contact us on 01843 572600