This Wednesday (27th November) we hosted a Lunch & Learn event in partnership with StorageCraft, our Backup & Disaster
Recovery (BDR) vendor. The event was an
excellent look into what BDR is all about and why it is so crucial to businesses of all size and scope.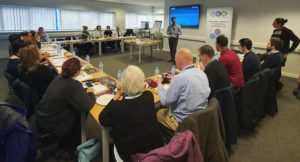 The event was also an excellent chance to network with local businesses from all types of industries. Guest speaker Michelle Mullins gave a fantastic look into what makes BDR essential to a successful business with plenty of up time.  Her talk with bookended by additional insights from our very own Managing Director Martin Hynes, who was also on hand to answer any client queries.
We would love to extend our gratitude towards both Michelle & StorageCraft for partnering for the event, as well as the Kent

Innovation Centre for providing their excellent facilities for the event. Additionally, a big thank you to everyone who attended, we hope you all found the event insightful!
To learn more about our Lunch & Learn events, or to express interest in attending a future event, please contact us on 0800 6521 365 or email events@bcs365.co.uk