Setting an IT Budget for your business: finding the right balance.  
Setting an IT Budget for your business can be a daunting prospect. Whether it's a yearly task; or you're setting a formal budget for the first time, it can a veritable balancing act. Of course, ensuring all of your core operations are maintained and running smoothly over the next 12 months requires investment. Still, it's also essential to invest in technologies that will help you maintain a competitive edge and align with your overarching business plans. 
When it comes to IT budgets, the pandemic has been both a blessing and a curse. Where digital transformation was once on a five-year roadmap, organisations have had to dig deep to make change happen, regardless of their state of readiness. This has produced a leapfrog effect, where businesses have had to invest in their IT infrastructure, which for most has meant an accelerated path to the cloud or a significant investment in collaboration tools that support effective remote working.  
Gartner research predicts that global IT spending will surpass $4 trillion in 2022, after a 3.4% increase in spending over the past year. In particular, IT Services saw a growth of 9.8% as business leaders fortify their digital infrastructure in the wake of the pandemic. With a balance of remote-working and office-based working set to become a permanent fixture for most businesses this year, it's worth considering the impact of a lack of investment in the critical IT solutions that support the virtual office.  
There's no correct answer for how much you should invest in your IT budget.  
Anyone who tells you to invest this amount in your IT services to see this specific ROI doesn't know (and understand) the nuances of your business and your strategic imperatives. The good news for companies is that IT strategy is becoming more integrated with overarching business strategy, signalling that the Board and the C-Suite now recognise that IT investment is essential for business success. 
You can apply rough measures, such as the often-quoted figure of 4-6% of turnover allocated to your IT budget. You can seek insights into your competitor's spending. You can use your previous year's budget as a baseline. The downside of applying any of these methods as your primary rationale is that none of them accounts for any significant business transformation you may be planning, any services you need to innovate or digitise to remain relevant and competitive in your market. These methods also ignore any recruitment or growth plans. The upside is your previous year's budget will give you a ballpark around volumes of software licencing and hardware, shed light on your current levels of expenditure and highlight any areas where a lack of investment has impacted your business.   
The business landscape is changing faster than any analyst could have anticipated, confirming that we live in an unpredictable world. Savvy business leaders recognise that IT investment is essential for futureproofing how they connect and serve all their stakeholders. With this in mind, successful IT budget planning must consider your organisation's ability to thrive in the current landscape, from delivering excellent customer service, employee productivity and collaboration to ensuring compliance and security are maintained in a remote setting. Your balance of investment must consider supporting BAU whilst providing the foundations for the successful delivery of planned services and business changes. Trends show that even large enterprises are refocusing their spending on tackling the operational elements of IT that ensure they can maintain service. In contrast, spending on 'luxury' or incubator projects has stalled.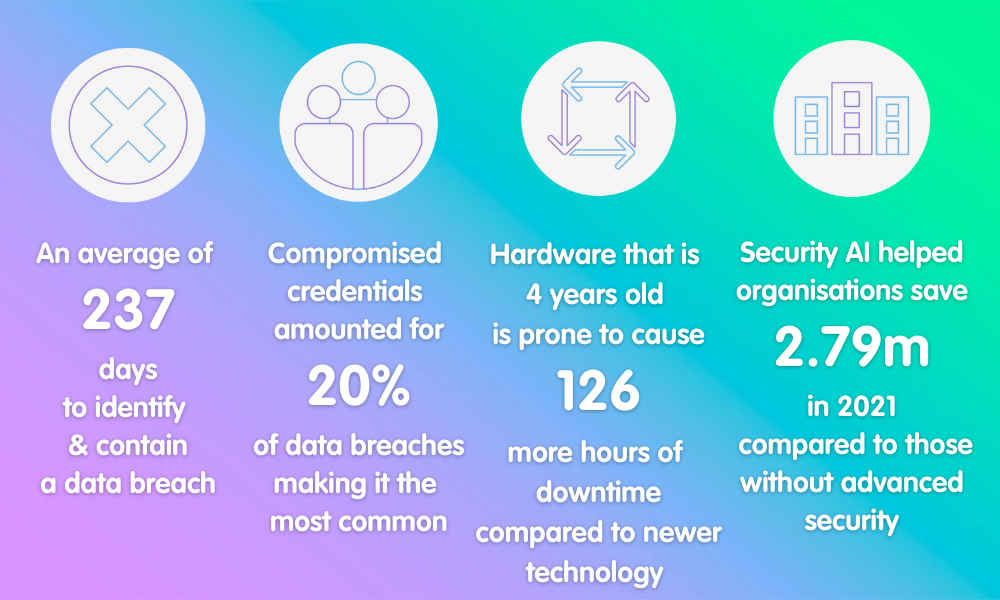 Covering the fundamentals: 
These are the areas that your future success is predicated on, so it's worth ensuring they are reflected in your budget planning.  
Ensuring uptime and protecting your core operations 
Remote working has presented new challenges for Technology leaders, not least ensuring an effective experience for homeworkers.  Then there's the added pressure of maintaining the security of every device on your network, mitigating cybersecurity issues and ensuring there's as little downtime as possible, so everyone can work effectively and remain productive. Compounding the problem is leaner budgets and an increased workload for your internal teams. This is where an investment in an expert IT Support provider can be a game-changer, meaning faults can be easily fixed without delay and issues can be picked up and mitigated through network monitoring. With 24/7 support available, it makes sense to protect your business and take the pressure off your internal team with a predictable fixed cost.  
Supporting your remote workers effectively 
Remote working is here to stay, which means your employees need laptops and collaboration tools that make their working life easier and more productive, which in turn has a positive impact on delivery and results and, ultimately, the bottom line. A seamless experience is also vital for talent attraction and retention, as prospective employees will be put off by clunky and difficult to navigate systems that impede their ability to perform their duties well. Setting aside a budget to invest in the apps, services and subscriptions that create a high-performance culture will pay dividends in the long run.  
Disaster recovery and backup 
An area often neglected by even the most tech-forward businesses is recovering quickly from significant data loss or a server outage. The cost of ignoring such a fundamental element of your IT strategy could result in permanent business closure. By opting for a Business Disaster Recovery service, you would not only have a copy of your data, but you would also have cloud servers reserved for you, ready to be brought online in the event of a disaster, minimising business disruption and resulting in as little downtime as possible.  
Cybersecurity concerns  
Remote working increases the risk of malicious attacks, with UK businesses seeing a significant rise in cyber breaches in 2022.  IBM research discovered that the average cost of a lost or stolen record due to a cybersecurity breach is £131; when you consider the average employee has access to millions of data records, it doesn't take long for the costs of a breach to mount up.  
With human error responsible for over 90% of breaches, there's also a solid argument to ringfence investment in Cybersecurity Training. A trusted partner can help you create a strategy that protects your businesses and ensures your employees are vigilant and minimising the risk of a breach through compliant behaviours.  
Bridging the cloud skills gap and maintaining a competitive edge 
In challenging times, it's easy to get bogged down in the day-to-day, but if you tread water for too long, your competition will leave you standing. An investment in the cloud is the most successful method of reducing overall IT operating costs while increasing time to market and innovation. You must develop a cloud strategy that ensures you are benefiting from breaking away from legacy tech and successfully leveraging all the benefits of the cloud. This means investing in digital transformation that actively helps your teams and organisation, rather than compounding skills gaps that may already exist in your business, creating another recruitment cost when budgets are already stretched.  
Moving to the cloud doesn't have to be a hassle. Most IT Providers will be able to help you successfully migrate to the cloud and find the right blend of services and support for your organisation. It is also worth choosing a provider that will help manage, maintain and monitor your whole cloud estate, taking the pressure off busy employees. With 30% of cloud budgets being wasted, its essential you have sufficient help in guiding your decision-making, so you enjoy the flexibility and scalability the cloud has to offer at a reasonable level of expenditure.  
Better serving customers  
Customer experience will always be fundamental to the success of an organisation. In an always-on digital world where people strongly trust online reviews, delivering a negative customer experience could result in reputational and brand damage that's tough to bounce back from and rebuild. No budget can ignore the need to provide services that support a premium customer experience. A high-quality VoIP system supports better collaboration between teams and a better experience for customers, ensuring that all calls are handled professionally, regardless of where employees are based or what device they're using and even whether they're on a 3G or 5G connection.  
Greater visibility leading to cost savings 
Technical debt costs businesses a significant amount of time and money. Addressing legacy processes and systems may seem complicated. Through working with a trusted IT Partner, you can gain greater visibility over all of your operations and start building an environment that makes sense and saves you money.  Research shows small and medium businesses find it 40% more cost-effective to employ third-party cloud platforms than maintaining an in-house system. 
Budgeting for innovation  
We believe it's possible to combine highly efficient functional IT investment with services that support you to achieve your long-term plans; they're not mutually exclusive. A great example is a managed cloud service where changes and new applications can be easily deployed across your network and benefit the business immediately. Similarly, a quality VoIP solution will enable you to handle any changes in call volumes and increased customer demand, so you know you can manage peaks and troughs in inbound due to marketing campaigns.  
An investment that delivers costs savings  
It can feel counterintuitive to spend more to save. When it comes to investing in your IT environment, it does make sense. Firstly, removing the barriers to short-term gains (systems that don't interact and lack visibility) and laying the groundwork for long-term success (higher productivity, more innovation in the cloud). When your IT environment is firing on all cylinders, the savings become a virtuous circle. You eradicate the blind spots that cost you time and money, such as vast storage expenditures you may not need or the maintenance costs attached to on-site hardware that might be inadvertently eating up 50% of your budget. Just because you've always done things a certain way doesn't mean it's a fixed cost you should pay forever. After all, the gift of innovation is the freedom to do things differently and strive for better results.  
Consider the overall business impact 
It has transformative power, so leverage it. Consider how IT investment benefits all the teams in the business and seek their input and support for your proposed budget, and address how investment in critical areas will align with the overarching business strategy and how it will support and enable team budgets and activities. By taking this approach, you will only strengthen your business case to the leadership team.  
A trusted partner can guide you through it 
We provide flexible and scalable services to the changing needs of modern businesses, eliminating the need for expensive fixed costs and giving way to a far more flexible way of working.  
We provide clear and transparent advice focused on transforming your IT. We aim to understand your business and your goals better, so we can design a blend of services that will support you to deliver more success, achieve genuine cost savings and realise the power of IT that supports your entire business. 
Don't hesitate to reach out and talk to us about any of the topics covered in this article. Or, if you would welcome a broader conversation about your IT budget, please get in touch today.