The sound of bells is here again and hooden horses are running around, we love it! It's Broadstairs Folk Week! Bells are ringing!
We are proud to be one of the sponsors of this fantastic event. Broadstairs Folk Week is a registered charity that helps keep the festival in the town, where it is so special and an exciting yearly event that people from all over the world come to enjoy.
We enjoy attending Folk Week, as it gives us a chance to catch up with some of our lovely customers and friends who also enjoy folk music. This year, some of our ninjas had the pleasure of peoples' company from Morgan Jones, Think Telecom and FujiFilm. After a lovely meal in Broadstairs, they saw 'Coco and the Butterfields' at the concert marquee in Piermont Park. Very nice too!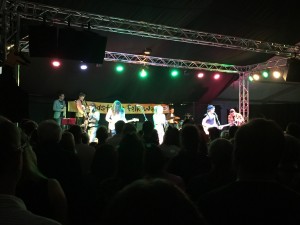 If you would like to visit Broadstairs and discover how great Folk Week is, visit this link for more information. Folk Week is running in Broadstairs until 12th August, 2016 and is an absolute must on your social calendar!