We would like to say a huge thank you to everyone who filled in our engineer survey during the month of August. Each month, we pick a winner (selected at random) for our survey prize, from a list of people who have completed our engineer survey. BCS really do listen to feedback received, so we would like to extend our appreciation to all of you who provide us with this.
The winner drawn from August's survey is… drum roll please… Jonathan Burgess from Burgess Accountancy Services.
Our survey prize was a £50 voucher for Posillipo's restaurant. Our lovely Steve and Jess dropped the voucher to Jonathan. We hope you have a scrumptious time at Posillipo's!
Here are some of the brilliant comments from August 2019: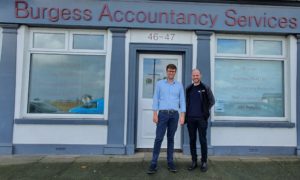 "Super friendly team, very efficient and speedy – just what you need when you're having frustrating IT problems!"
"As always our issues were dealt with quickly and professionally"
"Great work again guys, quick response and speedy resolution. Thanks"
"Nothing is ever too difficult & they always get the most confusing issues fixed!"
"Very rapid response. Issue solved quickly. Re-call to ensure everything was ok. Brilliant service. Thank you"
"All sorted out quickly and professionally, and regular updates throughout. Thank you"
"As always a quick and proficient response meaning we have no hold ups within our day. Thanks again"
September's prize starts and ends with a BANG! We have a family ticket for Quex Park Bonfire and Fireworks Event up for grabs! There is something for the whole family as this year Quex Fireworks "Rocks the 80's"! Quex always have some amazing fireworks and we are sure this year will be no different. So, keep Saturday 2nd November free because you might be dancing round the Bonfire.