Where did 2018 go?!?! We had an amazing and busy year here at BCS!  
This year we've have had five new members of the team; including two new engineers Toby and Mike, who both are doing a fantastic job! Our new Apprentice Jess who, as part of her Business Management Degree, has already been to three different departments in only a short space of time. We also have a new Account Manager Matt who has been busy attending SQUIDS and really getting to know our customers' needs. And of course, our new trainer Eden, who has been doing a brilliant job of getting our Learning Zone session back in full flow! 
We've also got two new directors; long-time BCS team members Harry and Dean, who have taken on new vital roles within the company. They are doing an amazing job settling in and making big decisions for BCS. We also have a new Managing Director Martin Hynes, who has also been doing a fantastic job 'steering the ship'.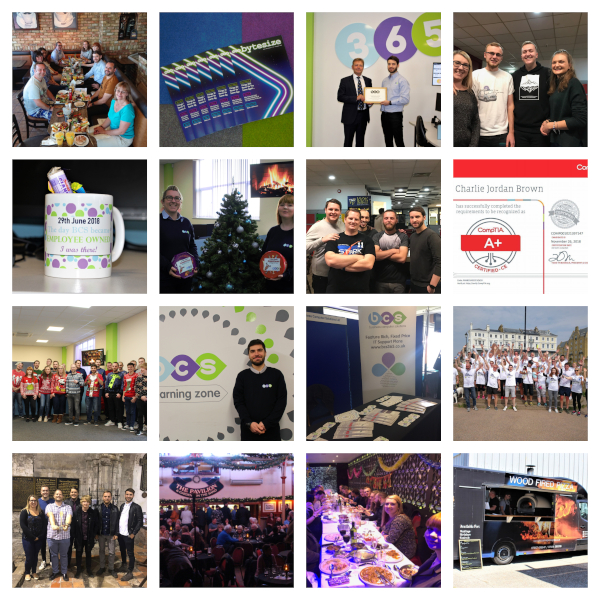 2018 also saw BCS publish two more editions of our popular Bytesize magazine, attend a number of different business shows, host another brilliant Comedy show, this time at the Broadstairs Pavilion. We've also been on a number of staff social/bonding events, including bowling, mini golf and even faced the challenge of the Escape Rooms in Margate! 
We supported one of our customers on their annual quiz night and also attended a charity crazy golf event run by Quex Park. In addition to this, we've supported some local charities including Shaw Trust, Stronger Kent Communities and Kent Coast Volunteering.  
As education is one of our core values, we like to make sure we are still educating ourselves and keeping up with new technology and 2018 has been another successful year for our team, with Dom, Andrew & Dan B getting their Server MCSA's, Reece, Joe and Charlie getting their CompTIA A+ certificates, Dan C becoming GDPR qualified, Eden passing his Microsoft Office Specialist exams, and Jo completing her AAT Level 3. Well done all! 
We have also been making sure our customers and other Kent businesses keep their staff trained, with nearly 1,000 people completing our Cybersecurity Training this year. We have also just finalised our online GDPR training course, so keep your eyes peeled in the New Year for that to go live! 
Our Account Managers have moved to a new online quoting platform 'QuoteValet', so our customers can now access their quotes online. This makes it easier for our customers to both view and accept quotes. Our lovely Rachael has set up the procurement module so that we can scan items in to keep track of our stock improving the whole customer order experience.  
Our engineer Khan become a Dad for the second time this year and our Processional Services Director Harry become a Dad for the first time! BCS babies! 
However, our biggest achievement of 2018 has to be becoming Employee Owned, on National Employee Ownership Day in June. We celebrated this day on Friday 29th June, which was such a brilliant day of fun games, pizza for lunch and then ice cream. On Saturday 30th June we had a our BCS Takeover Party at the Winter Gardens to celebrate this momentous occasion with our customers, vendors, staff and friends.   
To round off the year we have been celebrating Christmas with chocolate deliveries, Christmas jumper day, secret Santa and our lovely Christmas meal at The Ali Raj. 
Wow, what a year!!! We can't wait to see what is going to happen in 2019! 
We would like to wish everyone a Happy New Year, we hope to see you soon!